Dr. Nurisyal Binti Muhamad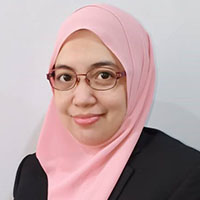 Dr. Nurisyal Binti Muhamad
Coordinator PhD 
SENIOR ACCOUNTING LECTURER
Research Area
Performance measurement system
Management control system
Environmental reporting
Academic Qualifications: Ph.D (Accounting), UKM; Master in Accounting, UKM; Degree in Accounting (Hons), UUM

Biodata (Brief):
Nurisyal bt Muhamad is currently a senior accounting lecturer at Faculty of Business, Finance and Social Science, Kolej Universiti Poly-Tech MARA (KUPTM), Kuala Lumpur, Malaysia. She had been with Kolej Poly-tech MARA as a senior lecturer for almost 18 years, and joined KUPTM in June 2018. She has taught various subjects in Diploma, Foundation and Degree level such as financial accounting, management accounting, auditing, accounting information system, accounting theory and practice, and corporate governance. She earned her doctorate degree from Universiti Kebangsaan Malaysia specializing in Performance Measurement System and Sustainability Performance. Her master thesis was in the area of Environmental Reporting and Ethics.
Research Area:
Performance measurement system, management control system, environmental reporting
On-going Research:
Changes in Government Governance – Leadership and Anti-bribery management system.
Completed Research:
Romlah Jaffar, Nurisyal Muhamad, Zaleha Abdul Shukor. 2018. Corporate Reporting and Information Asymmetry in Malaysia (Translated from Malay Language – Pelaporan dan Jurang Maklumat Korporat di Malaysia). Chapter 4: Sustainable Reporting.
Nurisyal, M., Norhaninah, A.G., Suzilawati, U & Syatila, C.S. 2018. Students' critical thinking skills, knowledge and awareness of industry 4.0. In Suhaily, M.R & Norehan, H (Eds), Issues, Challenges & Opportunities of Industrial Revolution 4.0 2018 Conference (pp. 97-106). Kolej Poly-Tech MARA Sdn. Bhd.
Nurisyal, M., Md Auzair, S., Mohd Amir, A., & Md Daud, I. 2016. Measuring Sustainability Performance Measurement System. Acta Universitatis Danubius. Œconomica, 12(3).
Nurisyal Muhamad & Sofiah Md Auzair. 2016. Sustainability Performance Measurement System Implementation: A Preliminary Finding. International Journal of Business and Technopreneurship. 6(6): 77-87
Jaffar, R., Hassan, M. S., & Muhamad, N. (2010). Peranan Etika dalam Pelaporan Maklumat Alam Sekitar di Malaysia (The Roles of Ethics in Environmental Reporting in Malaysia). Jurnal Pengurusan (UKM Journal of Management)
RESEARCH GRANT
International : - National : 4 University : 2
SUPERVISION
On-going PhD
Supervisor : - Co-supervisor : 3