Assoc. Prof. Ts. Dr. Zahrah Binti Yahya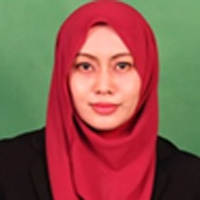 Assoc. Prof. Ts. Dr. Zahrah Binti Yahya
Research Area
Computer Science
Kansei Engineering
Big Data
Artificial Intelligence
Academic Qualifications: 
PhD in Computer Science
Biodata:
Assoc. Prof. Ts. Dr. Zahrah Yahya is currently a senior lecturer in Computer Science with over 15 years' experience at Kolej Universiti Poly-Tech MARA Kuala Lumpur. She earned her doctoral degree from Universiti Putra Malaysia specializing in Computer Science, Thesis Titled: Sketch-based 3D Modeling of Symmetric Objects from Wireframe Sketches on Paper. Currently she is supervising three PhD students in computing areas.
 Research Area: Computer Science, Kansei Engineering, Big Data, Artificial Intelligence
Research Project:
On-going Research:
The Assessing of Data Analytics based on emotional engineering factors.
IoT Enabling Technology to Eradicate Anomaly Detection with Enhanced Data Transfer Architecture
Fake News Algorithm detection
Integrated Academic Resource Planning (INTAREP).
Completed Research/ Project:
Academic Certificate Identifier (CertifAI)
Selected Publication in Journals
Selected Publications in Journals:

| | |
| --- | --- |
| 1.       Yahya Z., Yaser Shafazand M. (2018), "Kansei Design Customization based on Personality Modelling". In: Lokman A., Yamanaka T., Lévy P., Chen K., Koyama S. (eds) Proceedings of the 7th International Conference on Kansei Engineering and Emotion Research 2018. KEER 2018. Advances in Intelligent Systems and Computing, vol 739. Springer, Singapore | 2018 |
| 2.       Zahrah Yahya, Nor Shamshillah Kamarzaman, Noraliza Azizan, Zurina Jusoh, Raznida Isa, M. Yaser Shafazand, Nor Safwan Amirul Salleh, Syed Zulfauzi Syed Mokhtaruddin.  "A New Academic Certificate Authentication Using Leading Edge Technology". Proceedings of 2017 International Conference on E-commerce, E-Business and E-Government (ICEEG 2017). ISBN: 978-1-4503-5248-2 | 2017 |
| 3.       Zahrah Yahya, Rahmita W. Rahmat, F. Khalid, A. Rizaan and A. Rizal. "An Automated 3D Modeling Application on Vertices from 2D Paper Sketches". Proceedings of the 6th International Conference on Software and Computer Applications, 2017. DOI 10.1145/3056662.3056723 | 2017 |
| 4.       Zahrah Yahya, Rahmita W. Rahmat, F. Khalid, A. Rizaan and A. Rizal.  "A Concave Hull Based Algorithm for Object Shape Reconstruction". International Journal of Information Technology and Computer Science. PP.1-9, Pub. Date: 2017-3-8 DOI: 10.5815/ijitcs.2017.03.01 | 2017 |
| 5.       Zahrah Yahya, Rahmita W. Rahmat, F. Khalid, A. Rizaan and A. Rizal. "Detect and Localize Corner Based on Curvature Point in Irregular Line Drawing Images". International Journal of Information Processing & Management, vol. 6, 2015.  | 2015 |
| 6.       Zahrah Yahya, Rahmita W. Rahmat, F. Khalid, A. Rizaan and A. Rizal. "3D Reconstruction from Paper-Based Sketches Using An Optimization Based Method". International Journal of Interactive Digital Media, vol. 1(3), 2013.  | 2013 |
| 7.       Zahrah Yahya, Rahmita W. Rahmat, F. Khalid, A. Rizaan and A. Rizal. "3D Reconstruction from Paper-Based Sketches Using An Optimization Based Method with Regularities Approach". International Conference Interactive Digital Media, pp. 406-410, 2013.  | 2013 |
| 8.       Mohd Nizam Husen, Zahrah Yahya and Norsazali Abdullah. "Transmitting Information using Web-based SMS System: The School and Parents Communication". 3rd International Conference on Science and Technology: Applications in Industry and Education (ICSTIE 2010). Penang, Malaysia. 16 – 17 December 2010.  | 2010 |
| 9.       Mohd Nizam Husen, Wan Rozaini Sheik Osman, Zahrah Yahya and Ahmad Hisham Zainal Abidin. "Retrieving Examination Results through Wireless Application Protocol". Proceedings of International Conference on Engineering Technology (ICET) 2007, pp.357-369.  Kuala Lumpur, Malaysia. December 2007.  – Best Paper Award | 2007 |
| 10.   Mohd Nizam Husen, Wan Rozaini Sheik Osman and Zahrah Yahya. "FileNet: Web-based Research Paper Repository System". Proceedings of International Conference on Engineering Technology (ICET) 2007, pp.395-403. Kuala Lumpur, Malaysia. December 2007. | 2007 |
International: -
National : 1
University: 3
On-going PhD
Supervisor: -
Co-supervisor: -